I use a multitude of different equipment depending on the task in hand.  It will certainly be combination of hardware and software equipment and I always try to stick to five golden rules.  
Allow a choice of microphones for the musicians.
Ensure a professional high quality recording path of pre-amps, EQs, compressors and A/D converters.
Use the latest and most advanced software for editing and mixing.
Have a correct listening environment, that has the correct acoustic treatment and monitoring systems.
Use fast high powered computers and ALWAYS back up to safe locations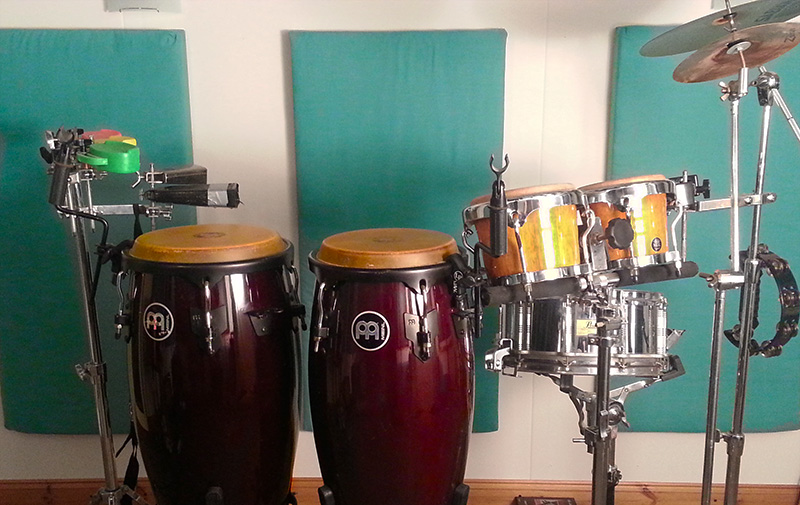 Hardware
Microphones
AKG C414 XLS II
sE 4400a large condenser
M-Audio Sputnik Tube condenser
Samson large condenser
Shure SM58 beta's
Shure SM57's
CS1000's
Rode M3's
AKG D112
AKG C451
Josephson C42 Matched Pair
BeyerDynamics
Outboard
TL-Audio Ebony
Drawmar
DBX
Focusrite
Presonous
Alesis
DOD
Peavy
Guitars
Fender Stratocaster Custom (1990's)
Fender Stratocaster Squire (1980's)
Washburn Acoustic
Marshal JCM800 Valve Amp
Various Foot Pedals
Boss GT5 Processor
Bass
Legacy 4 String Bass Guitar
Bass Collections 4 String Bass Guitar
Bass Amp 100w
Drums
Gretsch American Custom 5 piece kit
Pearl Super Hoop Metal Snare 7 inch
Ziljian Cymbols
Alesis 8 way Drum Pads
Percussion
Meinl Conga's 9.5″ and 11″
Natal Bongos
Pearl Wood blocks x3
Cowbells x2
Tambourines x2
Shakers x2
Other Instruments
88 key Challen Baby Grand Piano
Mandolin – Andrew Whale Hand Made
Mandolin – Kentucky
Violins – Several
Roland D5 Synthesizer
Yamaha EX5R Synthesizer
Tascam 8ch Digital Field Recorder
Monitors
KRK 6inch special edition + 10inch Sub Woofer
Pioneer 8inch
Rotel 4inch
DJ
CDJ1000
Technics SL1210 Mk2
Pioneer DJM-600 Desk
Gemini PS-626 Desk
Computers
Apple MacPro x2 8 cores each
Live Show
1.2kW RCF PA system and monitors
Video (other than hired equipment)
Panasonic GH4 (New to the studio)
Canon 700d
Tamron and Canon Lenses
Sony HDR AVCHD Video Recorder
Canon MV550i Video Recorder
Various lighting and Tripods etc.
Software
The DAW's (Digital Audio Workstations) I use are Logic X and Ableton Live 9.  I also use Cubase for training purposes.
The amount of software applications I use for various tasks are quite numerous, here are some of the main manufacturers.
Spectrasonics               (Samplers/Synths/Romplers)
PSP Audio                     (Mixing)
Waves                            (Mixing/Mastering/Editing/Production)
Native Instruments      (Samplers/Synthesizers/Mixing/Production)
Celemony                      (Editing)
Fab Filter                       (Mixing/Production/Synthesizers)
iZtope                            (Mixing/Mastering/Editing)