Vocal recording – fixed package deals – per track
These fixed packages are designed for vocalists who will be singing to a pre-existing backing track.
How to price the package
Pick your backing track e.g. An Adele Song (stereo or multi-track version – see below). £2 to £15.
Choose which package is most suited to you (from below).  If you're unsure or new to recording, just go with the starter package (£25).  We can change it to one of the others later if you want to.
That's all you really need to decide right now, anything else can be added later if needed.  The other things that can be added later are:
Extra layering (see below) – Charged at standard hourly studio rates.
Backing vocals (see below) – £15 per multiple harmony (verse/chorus).
Backing tracks cost £2 to £5 typically for a stereo version and £15 typically for a multi track version. A stereo backing track is suitable for most applications. If you want to go the extra mile or completely break the track down and play with the arrangement, then a multi-track version will be better. A multi-track version means that all the instruments in the song, can be balanced separately by me. This gives me greater flexibility when I mix all your vocals with it to produce the final master.  Ask if you're unsure.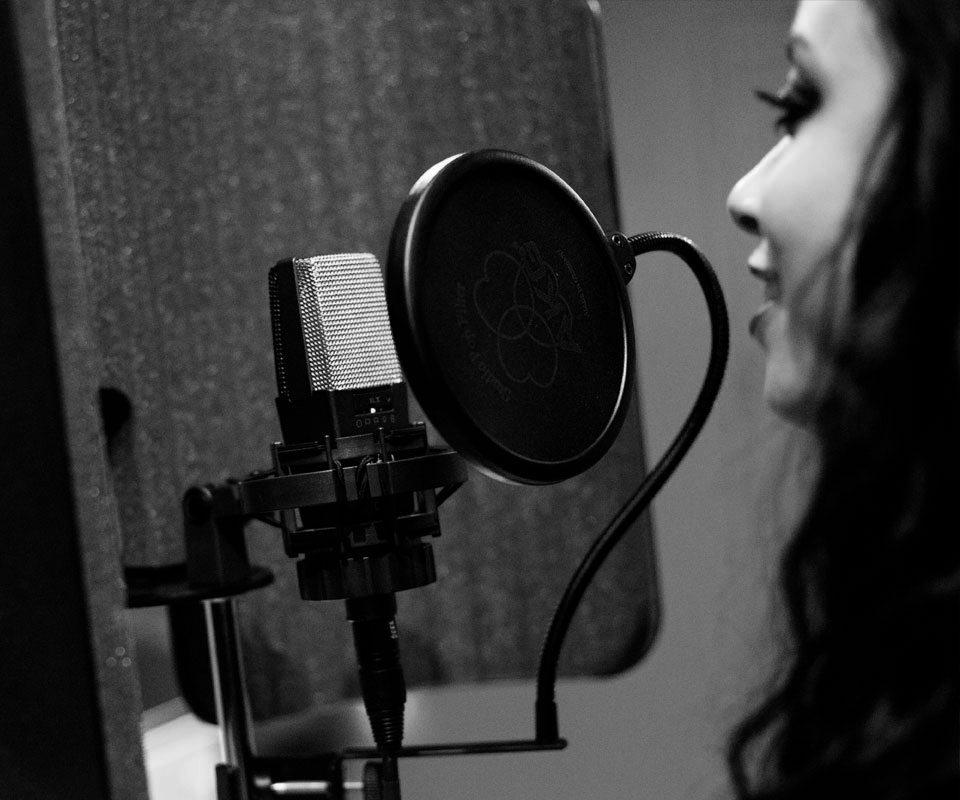 The Starter Package
The starter package is the foundation that can be used to sing the song professionally. The song is sang twice and the best bits from both versions are put together to make one good version. It's then mixed, balanced and mastered. The time to do this will be about 90 minutes and the cost will be £25.  If you feel like you would like the tuning or timing analysing and adjusting after you've sang the track to make it sound how you'd like, then an additional £12 will be charged.
The Advanced Package
You can choose this package straight away or move to it from the other package. With this, you will sing the song four times and the best bits put together to make one really good version.  The tuning, timing and phrasing will be analysed and corrected to make the recording sound perfect. This will take around 3 hours per track and will cost £49.
Extras
Extra Layers not already stated above –  (Charged at the standard hourly studio rate)
A layer is one complete vocal track.  In the above packages you will sing the song a number of times, the best bits from each version will be taken out and used to make one or two perfect versions (layers).  Commercially released tracks like the ones in the charts often use extra layering and editing to get that professional sound. Layering (or double tracking) means that you sing two or more copies of the master vocal per song and layer them together. Those layers are used to add depth, warmth and fullness to the final sound. They are often used in the verses and often used in multiple ways in the choruses. Once you've decided which track you are going to sing, I can advise you what layering you should have, if any.  They're recorded in a similar way to the main vocal.  You can decide at any point in the process if you want to add these or not.  You don't have to have them and some songs don't actually need them, but when used they can add an extra 'something' to the final sound.
Backing Vocals (+£15 for verses/+£15 for choruses) per multi-layered harmony.
All the backing tracks used will have backing vocals (harmonies) already on them if the original song had them on.  However, you do have the option of removing them and singing your own if you'd prefer. There is no need to do this it's merely personal preference. You will sing each harmony several times and the best parts will be picked from them to create the final version(s).  You will need to choose the multi-track backing tape version to do this, which cost around £15.
Multiple Vocalists
If you want to sing your parts individually, then we need to record them separately so add £25 per person.
(This is the cleanest and easiest to mix)

If you want to sing your parts together using individual microphones, they are recorded together and separated in the mix, so add £20 per person.
(This is quicker to record, but not quite as good results to mix if any errors are sang)

If you want to sing your parts together like a choir would (as a group) around the same microphone, add £10 per person.
(The quickest to record and mix, but I can't then separate each persons voice.  So if someones out of tune, they stay out of tune!)

Remember…
If you want to sound like Adele or Sam Smith you will need to record like them too. That will mean using all the layering, editing techniques and attention to detail that they use.
If you just want to sing a song that's truly you, for personal use, to give to your Grandma for Christmas or to celebrate a special occasion, then you will only need the starter package.  (£25 + the backing track £2 to £5).
Don't worry if you don't understand the terminology, just get in touch and I can talk you through it.